Trial automatic driving lessons
So that we know that we'll get on with each other and to give you a entry into using our services, we have tailored first two hours for £70.00 (at £35.00 per hour) as a trial lessons (complete beginners only). This offer can be used in conjunction with any other block booking lessons. Advantage of a trial lesson for new learner drivers, with no obligation. Please take a look at our AUTOMATIC LESSONS page for prices after trial lessons. This gives you an opportunity to try us out before making a commitment. To take advantage of this unique offer, call or SMS 07760122331.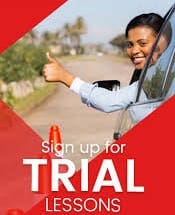 We do not want you to get a block booking of few hours if you are not happy with our services or book any further lessons if you think that we are not providing a satisfactory service with starter trial lessons.
For those two hours you will be having our fully road worthy car inclusive maintenance, car insurance, diesel, liability insurance and everything that goes with it. Inclusive also guidance of a fully approved Driving Instructor.
Take our word for it
It's only a trial lesson. You like it - you continue with us. The course of lessons is structured to meet the pupil's specific needs and ability. We guide you every step of the way, at a pace you are comfortable with. Our excellent first time pass rate, combined with our proven track record, means you can turn to us with confidence.
Quality and duration of those two hours special offer trial driving lessons is no way compromised.
Make your first step from the driver's side for a trial lesson, forget the bus or asking someone for a lift and learn with us. As a result we are sure you will carry on with driving lessons and get your driving test passed.