Book intensive driving lessons in Rochester
What is an intensive course, exactly? Intensive driving lessons are a route some people take who want to get their licence as quickly as possible. These can sometimes be daily lessons between two and five hours long, and typically one to two weeks. Booking a crash intensive course with 1-st learn to drive shall be done few weeks in advance (depending on how busy we are) and you can pass your driving test as quick as in one or two weeks if you can keep up with pressure and you're willing to learn quick. Usually when intensive course is booked with us, we ask learners to book the driving test immediately (if not done so already). Complete beginners please refer to TRIAL LESSONS if you prefer.
Is it worth it?
Everyone learns differently so whether an intensive course works for you will depend on how you learn – some people thrive in intensive learning condition while others do better by taking a more measured approach.
To help you weigh up whether an intensive course is for you, here's what you should consider:
Pros of intensive driving lessons
You can learn to drive and pass your test in a matter of weeks
It could save you money in the long run if you pass first time
Good if you need to pass your test quickly
Some schools fast-track driving tests so you could get a test date quicker
Focused, intensive course lessons that condense all the information you need into a short time so it's fresh in your mind
We'll make sure that:
- Fully qualified Driving instructor takes care of you and your abilities
- Prearrange suitable times for your intensive lessons;
- Pick you up from anywhere and finish your lessons wherever you prefer to be (subject to a reasonable distance);
- Let you have the same car that you trained for you driving test.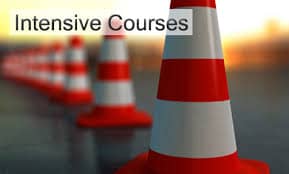 MANUAL intensive driving lessons:
£280.00 for 10 hours of driving lessons;
£560.00 for 20 hours of driving lessons.
AUTOMATIC intensive driving lessons:
£300.00 for 10 hours of driving lessons;
£600.00 for 20 hours of driving lessons
Car hire for normal driving test (includes one hour tuition before driving test and drop home) at £ 70.00
Car hire for extended driving test (includes one hour tuition before driving test and drop home) at £100.00